The partnership
The 8 AMiDE project partners from Denmark, Germany, Italy and Latvia – Have been carefully chosen. They are representing four educational partners of different kinds from each of the abovementioned countries and 4 care-institutions from the same 4 countries.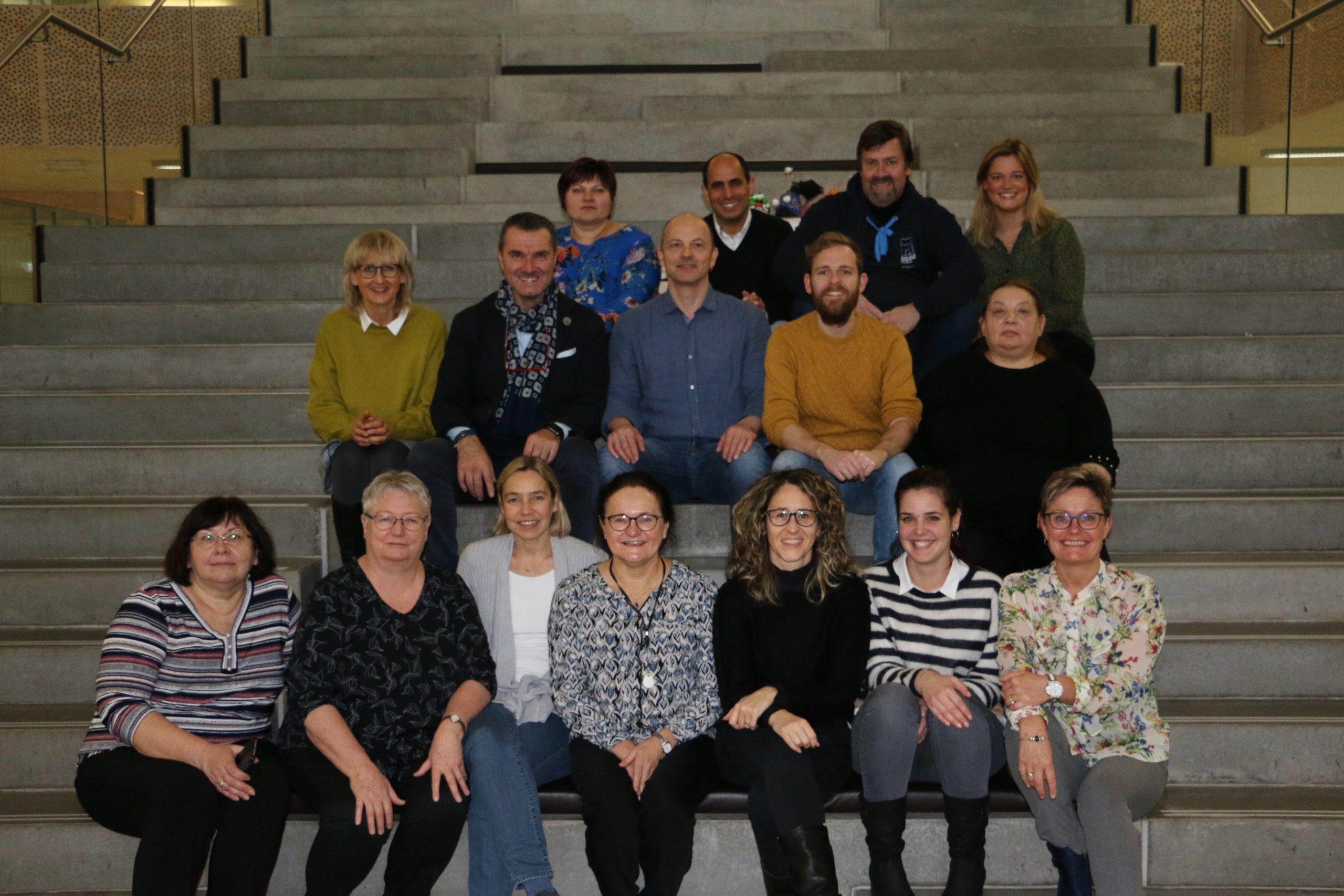 Based on previous very successful partnerships, where representatives from education were working together with workplaces, we have decided to have these "double partnerships" from each represented country in order to have, throughout the project period, a national cooperation running parallel with the international cooperation. The national cooperation will enrich the international cooperation and vice versa and this construction creates good conditions for successful project results. Another criteria was to have a partnership with a diversity of skills, competences.
The project kick off meeting took place in Aarhus, Denmark 26. + 27. November 2019 with the participation of representatives from all 8 partners.
SOSU Østjylland, Denmark:

SOSU Ostjylland is the second largest social and health care college in Denmark. It provides different educational programs – as well as supplementary training of educated staff members – for social and health care institutions for elderly and disabled people and for hospitals and psychiatry. The college also educates staff for childcare institutions and has

150 fulltime employees covering about 110 educational staff members. In 2016, the college had more than 800 full-time students, and about 2.000 professional caregivers participated in shorter or longer supplementary training courses. The students are in the age of 15 to 60 years old, and have more than 50 different ethical and cultural backgrounds. The college offers special educational introductory programs for immigrants and refugees.

DemensCentrum Aarhus Denmark:

Dementia Center Aarhus – DCA – represents Aarhus MSO (Magistraten for Sundhed og Omsorg (Health and Care), which is responsible for elder care and health in the municipality of Aarhus. Approximately 7.000 people are working here to provide help and care to older and weak people of any descent and to ensure that the citizens of the municipality live a healthy life. The workforce includes a wide variety of different aged people with different ethnic and cultural backgrounds. Dementia Center Aarhus (DCA) is a highly specialized unit in the municipality of Aarhus and it covers all aspects for people dealing with dementia. DCA offers professional help to all the local nursing homes in the Municipality of Aarhus. DCA has residents who has dementia and who has another ethnicity.

Giovani Valdarno, Italy:

Giovani Valdarno is a social cooperative working in the fields of education, childcare and eldercare. It manages vocational education programs, mostly addressed to workers of the social field, and several formal and informal education projects for children and people with special educational needs. Additionally, the company runs two care homes, two daycare centers and elderly home care services. Giovani Valdarno works together with several public institutions. They currently participate in three local public/private management teams (Independent life for disabled people, Alzheimer day care services and Job training for disadvantaged people). The company has 215 employers and  90% of them are women.

Asp Martelli, Italy:

Asp Martelli is a nursing home established in early 1900. It is a public company situated in the province of Florence, and takes care of the elderly. There are 91 employees, who work every day in close contact with the elderly. In total 110 people live here. The youngest resident is 60 years old and the oldest is 102 years old.

AWO Bildungscampus, Germany:

AWO Campus of Education is a modern state-approved vocational training center of elderly care nursing, as well as a fully accredited institution of education, training and further education in the social and health care sector. TheiInstitution staff consists of 22 employees. The institution cooperates closely with both local and regional authorities as well as interest organizations. It offers a very short and efficient way to the labor market for a diversity of young people, adults and immigrants.

Haus am Klostergarten, Germany:

The Haus am Klostergarten was founded in 1968 as a district institution. In 1991, extensive building alterations were carried out and from a retirement and nursing home, it became a residential care facility with 162 beds. The building is divided into 8 areas with 22 residents living in one area. Haus am Klostergarten has experience in providing care for people suffering from dementia as well as residents with migration background. Employees with a migration background also work here too.

Stradins Medical College, Latvia:

P. Stradins Medical College is the Medical College of the University of Latvia and is a higher education institution. Since 1994, the college is implementing a "Social Care" program whose graduates are employed and demanded specialists in the social welfare sphere. The "Social rehabilitation" study program was started in 2006. P.Stradins Medical College of the University of Latvia works for the development of the study process works very closely with employers and professional organizations.

Social care Center Zemgale, Latvia:

The Ozolnieku areas regional governments social care center "Zemgale" provides their clients with long term social care and social rehabilitation. It is specialized in the care of clients with dementia. The center has two social workers, 4 social carers and 3 social rehabilitators. All of the social workers have obtained higher professional education.

Ozolnieku areas regional governments social care centre "Zemgale" has 132 workers and social care is provided to 292 clients.